New World is committed to maintaining full moving service and storage operations and, according to The Cybersecurity and Infrastructure Security Agency (CISA) that executes the Secretary of Homeland Security's responsibilities, as an integral part of the Transportation and Logistics sector, we are considered "essential." As our country and world navigate through the COVID-19 pandemic, we are devoted and fully prepared to fulfilling all business obligations. We remain entirely functional, at near 100% capacity in all markets and operating with the safety and health of our employees and customers as our highest priorities.
In light of those priorities, we are taking all prudent measures to assure business continuity and duty of care. New World is complying with precautions and instructions issued by the CDC, WHO and federal and state governments and we will continue to provide updated information pertaining to our services as conditions evolve.
Here are recent decisions we have made and actions are taken to assure full operations and maximize protection for all: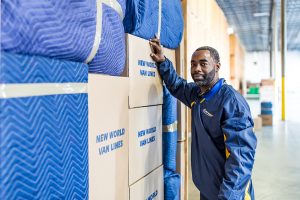 As of March 16, we finalized provisions and fully enabled 90% of our Chicago headquarters staff and many service center staff to work from home minimizing risk to our co-workers and assuring continued productivity.

We mandated cleanliness practices for our crews while in customers' homes, and for their equipment.

We implemented new customer contact guidelines for our crews, prohibiting physical contact, and enacting CDC recommended social distancing guidelines.

We discontinued all in-home surveys and job site visits, replacing visual surveys with digital and phone/skype/technology and job site visits with "virtual" visits, conducted via phone by executive-level staff, expanding the coverage to include the entire country.

We have prepared contingency plans for each of our 16 locations and headquarters in the event that a team member tests positive for the COVID-19 virus, including sanitization of the site, quarantine of staff, and provisions for replacement coverage.

We are engaged in daily executive management meetings to review new developments, impacts of latest government actions and recommendations, assess our status and make any needed course corrections, all in the interest of protecting the health and welfare of our employees, our customers, and our communities.

The impact of COVID-19 in New York City is severe and will likely result in the disruption of moving activity to and from NY metropolitan areas.
We will continue to provide more updates when more information is available.
If you have any additional questions or concerns, please contact our office at 1-800-422-9300