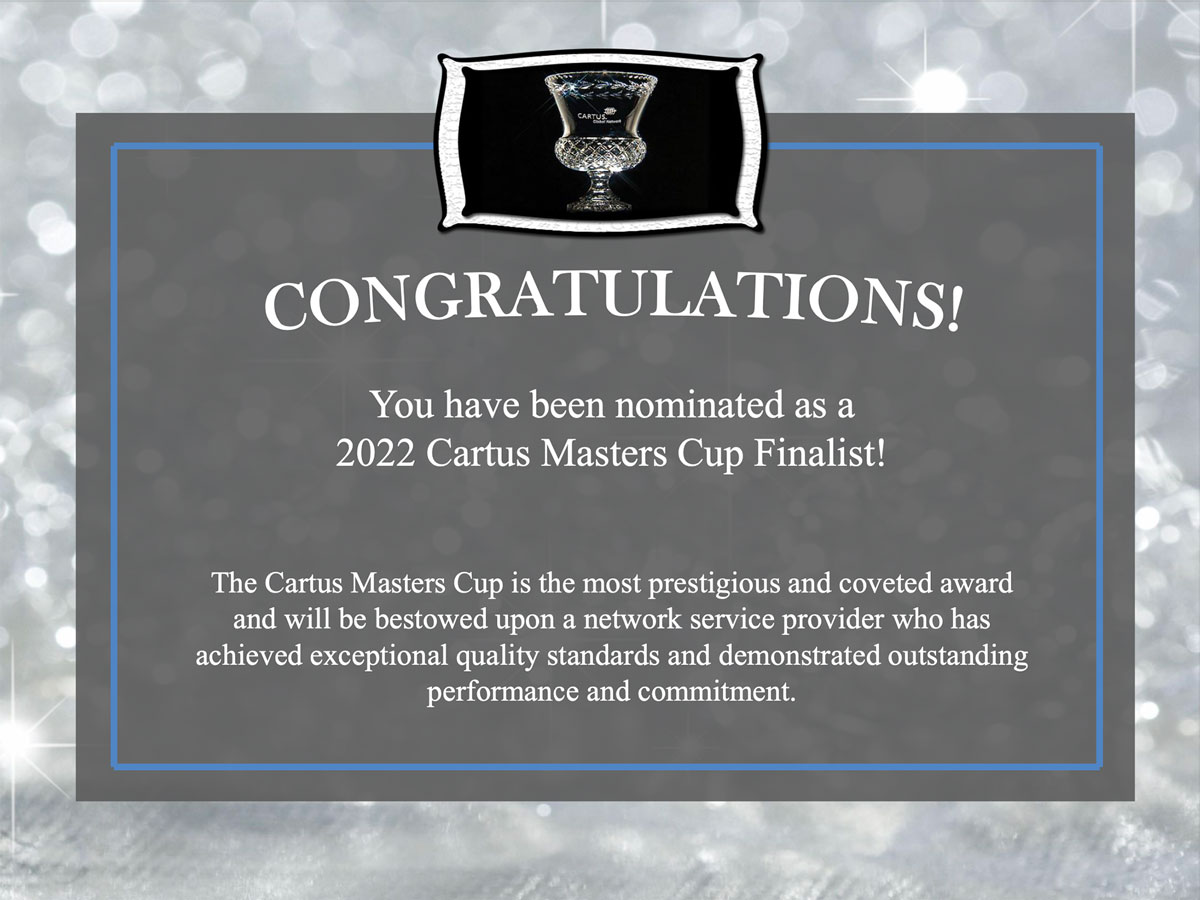 Highest Honor Bestowed by Cartus Global Network Will Recognize Winner's Outstanding Service and Performance
DANBURY, CONN. (August 23, 2022) – New World Van Lines has been named to the short list of finalists for Cartus Corporation's Masters Cup Award at its 2022 Global Network Conference, to be held virtually from October 3-5, 2022. The Cartus Global Network is Cartus' industry-leading worldwide service provider network.
Each year, the network comes together to collaborate on ways to improve and innovate service delivery to Cartus clients and their relocating employees. Exploring current global mobility "hot topics," the conference provides attendees with take-home value and best practice recommendations. Cartus is welcoming its global supplier network, representing companies from 175 different countries to the event, which provides the network with the opportunity to celebrate the past year's successes, recognizing companies and individuals that have truly gone above and beyond to provide exceptional service to Cartus customers.
This year's theme is Leading The Way, Anywhere, which reflects the industry-leading partnerships and global scope the Cartus Global Network represents.
Cartus Masters Cup
New World Van Lines has been nominated for the Cartus Masters Cup in the category of Moving Services. Presented annually to the highest-achieving Global Network members who have previously received top awards, the Cartus Masters Cup recognizes a service provider that has consistently achieved exceptional standards of quality.
Winners must demonstrate:
total commitment to service excellence
a truly collaborative approach when developing cost-effective and innovative approaches for Cartus clients
an outstanding performance and commitment—not only to Cartus' vision and values, but also to its mission to deliver proactive, flexible solutions that meet the unique needs of its clients and their employees, every time.
"We are proud to be nominated for the Cartus Masters Cup, which is testament to the commitment and quality of service we have demonstrated consistently throughout our partnership with Cartus," said David Marx, President, New World Van Lines. "The rigorous and exceptionally high-performance standard that Cartus keeps all its supplier partners to makes this nomination an even greater honor."
About Cartus
Cartus Corporation, a global leader in talent mobility and distributed workforce solutions, delivers the full spectrum of corporate relocation services to organizations of all sizes across the world. These include more than a third of Fortune 100 companies as well as hundreds of clients with small-to-mid-size programs serviced through their dedicated Cartus InsigniaSM segment.
Innovating ways to optimize, anticipate, and manage the mobility lifecycle with Cartus-developed technology such as their single source of truth platform, MovePro360®, and integrated core/flex solution, Benefits Builder, Cartus provides a holistic client and employee experience throughout the relocation journey.
Over the past 67 years, with offices and team members around the globe, Cartus has helped more than four million employees and their families find their way to new homes, new communities, and new experiences in 190 countries.
Cartus is a subsidiary of Anywhere Real Estate Inc. (NYSE: HOUS), which is on a mission to empower everyone's next move. Home to some of the most recognized brands in real estate—Better Homes and Gardens® Real Estate, CENTURY 21®, Coldwell Banker®, Corcoran®, ERA®, and Sotheby's International Realty®—the AnywhereSM portfolio includes franchise and brokerage operations as well as national title, settlement, and relocation companies and nationally scaled mortgage origination and underwriting joint ventures.
To find out how Cartus' experience, global reach, and hands-on guidance can help you achieve your global talent mobility goals, visit www.cartus.com or www.anywhere.re for more information.
About New World Van Lines
As the largest independent van line in the United States devoted exclusively to corporate and government relocations, New World Van Lines provides world-class domestic and international household goods moving services across the country and around the world.
New World Van Lines, a Women's Business Enterprise certified by the Women's Business Enterprise National Council (WBENC), owns and operates 15 domestic service centers including our corporate headquarters located in Chicago, IL. Our professionally trained crews are well-versed in handling each of your belongings with respect, and strive to provide service delivery that is exceptional, consistent and repeatable.
Media Contact
Trevor Macomber
Director, Global Marketing & Communications
203.205.1201
trevor.macomber@cartus.com