New World Van Lines was recently awarded the Outstanding Performance – Silver Award at BGRS's 2021 Supplier Partner Forum. The virtual forum, themed "Momentum," took place on October 19, 2021, with over 500 attendees.
During the forum, New World Van Lines was announced as a winner of the Outstanding Performance – Silver Award for its superior service results. The award recognizes the effort and commitment of the New World Van Lines team for going above and beyond to achieve service excellence over a 12-month period.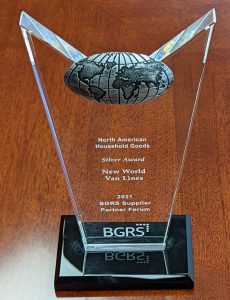 "We are exceptionally proud to receive this honor from BGRS. Although our industry faced yet another year of uncertainty and new challenges, our team's passion for excellence has remained consistent," said David Marx, President, New World Van Lines.
In addition to congratulating the winners of the supply chain relocation awards, attendees also participated in discussions about today's global mobility solutions, welcomed keynote speakers, and watched the event conclude with a performance from the non-profit, "OneVoice Children's Choir."
BGRS plans to host the 2022 Supplier Partner Forum in Las Vegas, Nevada, next October.