David and Patty Marx traveled to Panama City, Panama to represent New World International at the 50th Anniversary of the Latin America and Caribbean Movers Association (LACMA) from 2/17 to 2/21/19.
With more than 225 participants in attendance from around the world, the LACMA conference enables attendees to meet, engage, learn, and collaborate together.
The original Panama City was founded in 1519 but was destroyed by fire in 1671. The city was rebuilt in 1673 about 5 miles from the old city center. The people of Panama are friendly, helpful, and full of pride for their beautiful country. Today, Panama City is home to approximately 1.8 million people – nearly half of the country's population – and has the feeling of a major metropolitan city, joining many generations and cultures together in one place.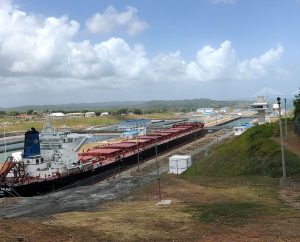 While in Panama the entire group toured the Panama Canal which was amazing to see. The group was taken to the original lock system, which finished construction in 1914, and a recently opened expansion of the system, finished more than 100 years later, in 2015. The canal is now capable of supporting cargo ships carrying up to 13,000 shipping containers at a time and can cost upwards of $1,000,000 USD to pass through. Despite the cost, the canal is still a tremendous benefit to shipping companies, as it takes an average of 9 hours to cross the canal system, compared to two weeks of additional sailing time if traveling a route around South America. Time is money.
In addition to the canal tour, LACMA held a very nice dinner and celebration among the ruins of the Old City, Panama Viejo.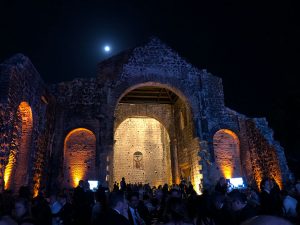 At business meetings the speakers talked about continual change in the moving industry, the impact data and artificial intelligence will have on our business, the power of computers, and how we all must embrace the change and change our companies to remain relevant.
It is important that New World attends these global meetings to improve our presence around the world, our ability to work with partners globally to better serve the needs of our clients and to grow our international business.
At the end of March, Edwin Ooms, David and Patty Marx will attend the FIDI meeting in Amsterdam, the Netherlands where they will also visit New World's Rotterdam office.